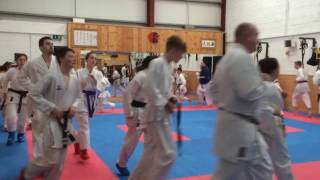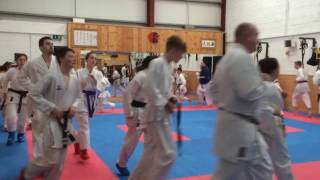 Team Spirit builds at National Squad Training
There was an excellent turnout for Squad training today. Martin Sensei took the participants through an intense workout aimed at developing Team Spirit as well as techniques. Over a two hour session, participants worked with different partners to develop their skills, speed, reflexes and friendships. And, as usual, Martin Sensei was on hand with sound words of advice and encouragement while pushing each member to reach their full potential. For the last half hour, in a seri
UPDATE: JKS IRELAND OPEN CHAMPIONSHIP - 9th April 2017
Hi Everyone! Just a few updates/reminders about our JKS Open on 9th April. Tournament Information and Entry Form are available to download here: http://www.jksireland.ie/jksopenentryforms Additional Kata Categories We are delighted to announce that we have added two Inclusive Kata categories for students with special needs. We hope to add more Inclusive Categories in future events to cater for the growing number of Karateka with Special Needs. These are: CATEGORY - KATA
Welcome to Ballybay & Culloville Karate Clubs. Oss!
JKS Ireland is pleased to extend a very warm welcome to Sensei Neil O'Sullivan and the members of his two dojos, Ballybay & Culloville Karate Clubs as the newest members of the JKS Family here in Ireland. Sensei O'Sullivan has practised Shotokan Karate since 1987 with many of his formative training years in the Karate Union of Ireland under Tommy McGrane Sensei. Over the past 30 years he has trained with some of the world's top Shotokan Sensei's: Enoeda, Kanazawa, Okazaki, Y
Welcome to Saggart Karate Club OSS!
JKS Ireland is pleased to extend a very warm welcome to Sensei Kieran Mullen and the members of his dojo, Saggart Karate Club as the newest members of the JKS Family here in Ireland. Sensei Mullen has a long history in Shotokan Karate. He started martial arts training at home as a child with his father, James Mullen, who was one of the original members of the Republic of Ireland Taekwondo Association (RITA). From there, after studying judo for a while, he joined St Marys Sh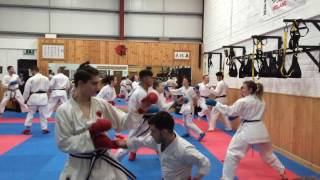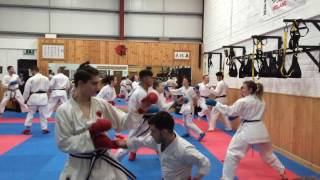 High octane session to prepare for Europeans 2017
Martin McNamee Sensei of 3 Rivers Shotokan Karate Club delivered a high octane training session for the JKS Ireland Squad today, in preparation for the JKS European Championship which will be held in Belgium this year. Through a variety of drills, Martin Sensei inspired the squad with many supportive comments, among them "Don't give up!" and "Keep going!". With high energy music in the background, the squad covered Speed drills, Cardio drills, and Strength & Conditioning dril